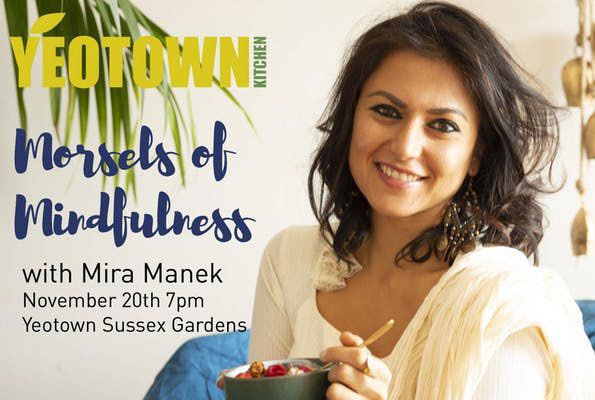 As part of our series of grand opening events for the new Yeotown Kitchen at the newly launched Inhabit Hotel, we are excited to be collaborating with Author and Ayurvedic Chef Mira Manek on 'Morsels of Mindfulness', an inspiring interactive Supper Club evening.
Come join us for a fun, informative dinner peppered with rituals from her new book and feast on Mira's delicious recipes personally cooked by her and her team in our kitchen. Allow yourself to be inspired while connecting with new friends and being guided through fun Yeotown mindful eating activities like Blindfolded Bites, Mindful Moments and Finger Foods led by Founder Mercedes Sieff.
Signed copies of Mira's new book Prajna: Ayurvedic Rituals for Happiness, will be available on the evening. Price includes a lovingly cooked 3 course meal and Yeotown crafted Mindful Mocktail. Our Conscious Cocktail menu will also be available on the evening.
| | |
| --- | --- |
| Date: | Wednesday 20th November, 2019 |
| Time: | 19.00pm – 21.30pm |
| Location: | Yeotown at Inhabit Hotel 25 – 27 Southwick Street London |