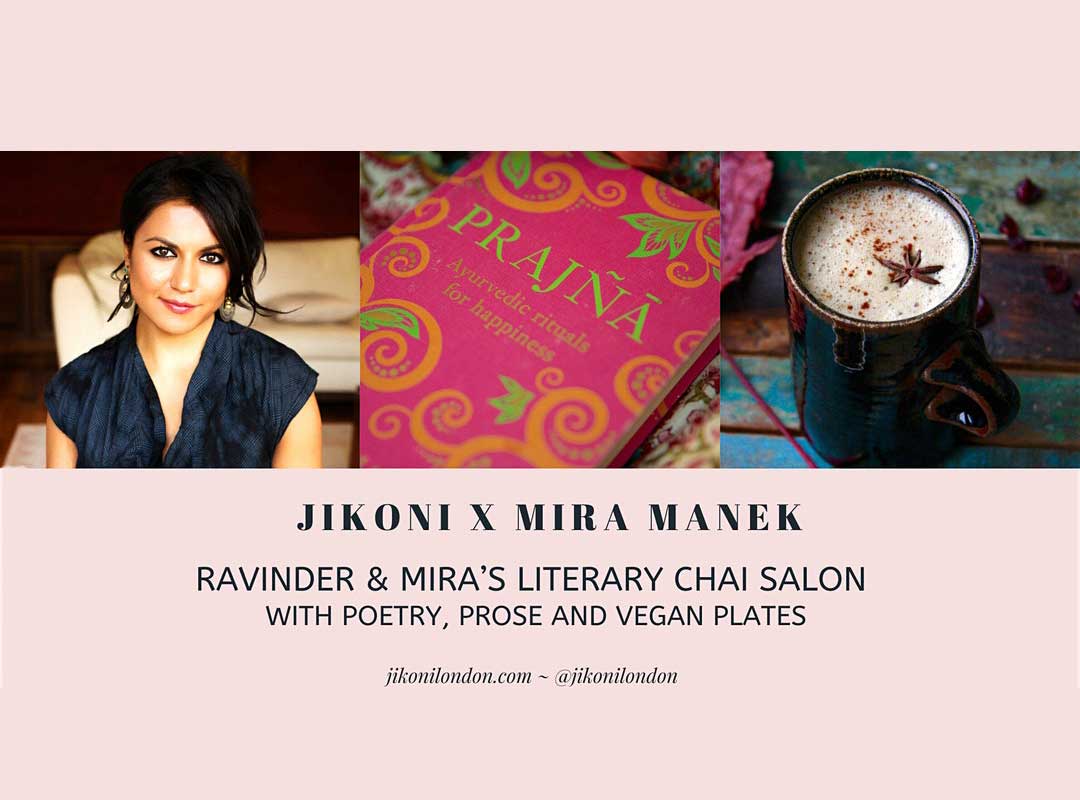 Nearly 200 years ago Jane Austen wrote in Emma, "Tea passed pleasantly, and nobody seemed in a hurry to move." On Sunday 26th January, to celebrate the launch of our friend Mira Manek's beautiful book of wisdom Prajna, Ravinder Bhogal and Mira Manek invite you to a languorous, unhurried Chai Salon with a vegan Gujarati inspired brunch at Jikoni.
Mira who is known for sublime and soothing chais will keep your cups full while you indulge in some of hers and Ravinder's favourite Gujarati dishes inspired by Mira's heritage. Alongside the delicious feast, Ravinder and Mira will also read some poetry and prose related to tea, and encourage guests with a literary leaning to join in and do the same.
Ravinder said, " Time is so accelerated these days and every time I sip one of Mira's delicious teas I pause and feel rejuvenated. Historically tea was also a great way to bring people together to share ideas or talk so I thought reading poetry and prose related to tea would be a lovely way spend the last Sunday in January."
There will be 3 sittings of just 10 people per session through the day at Jikoni's intimate kitchen table. Mira's book will also be available to purchase on the day.
Menu
Dhokla with Avocado Chutney
Stuffed Patra Leaves with Sesame Seeds
Sweet potato & Quinoa Bhel
Smoked Tofu, Cauliflower & Potato Samosa
Kachumbar Tadka
Dhal Dhokli
Bateta Poha
Saffron & Lime Cheesecake
Cardamom & Date Fudge
| | |
| --- | --- |
| Date: | Sunday, 26th January, 2020 |
| Time: | 11:00AM – 5:00PM |
| Location: | Jikoni, 19 – 21 Blandford Street, London |