THE BEST CHAI SPICE YOU'LL EVER TRY!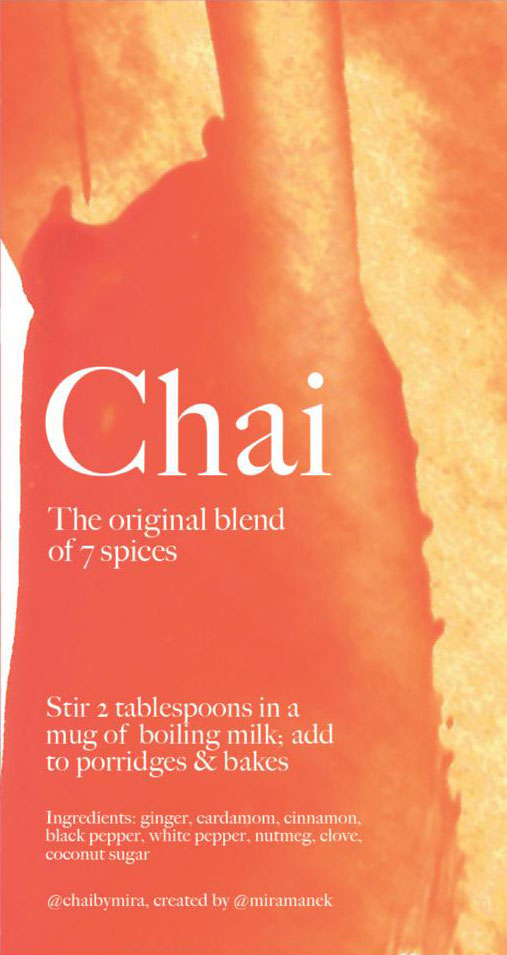 Ingredients: Cardamom, Ginger, Cinnamon, Nutmeg, Clove, White pepper & Black pepper, Coconut sugar.
Vegan, gluten free, dairy free, caffeine free, refined sugar free
250g pack - £13 + £5 postage packaging
- 2x250g - £24 + free postage
- 3x250g - £35 + free postage
500g pack - £24 + free postage
1kg pack - £42 + free postage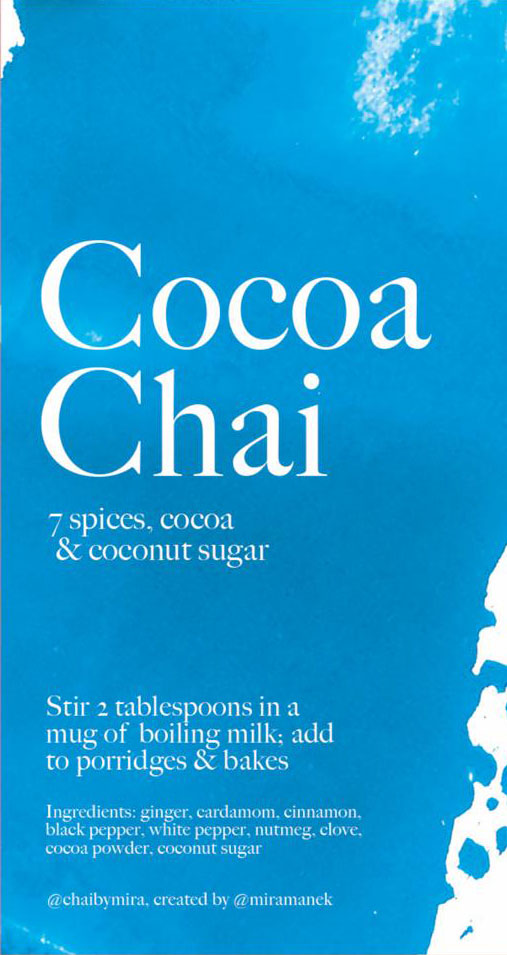 Ingredients: Cocoa powder, Cardamom, Ginger, Cinnamon, Nutmeg, Clove, White pepper & Black pepper, Coconut sugar.
Prices available soon.
Subscribe
Be the first to hear about new chai offers, Mira's recipes, healthy lifestyle tips and events
I just have to thank you for my 3 lovely little bags of chai. Truly the most delicious I have ever tasted. The taste takes me straight to my week in Kerala just before lockdown and my morning karupatti coffee which was a delicious discovery for me. I've been trying to recreate it ever since without luck. And this morning I put your chai into my coffee and bingo! But it's also incredibly soothing in warm milk...you know all this of course and I just wanted to thank you. Hoping to discover your Kingly Court cafe one day soon.
I just wanted to say I received my Chai today and it is more delicious that I could have possibly imagined! Thank you so much for all your help and sending it out so quickly. You have a wonderful brand . I am also reading Prajna, it's beautifully written and full of great content.
"I absolutely LOVE your Chai. It is the perfect blend of spicy and sweet and it has been such a wonderful substitute for caffeine (especially while pregnant!)
Pouring a cup of daily chai has become a daily ritual for me that allows me to slow down and savour the moment. I would highly recommend!"
"Mira's chai is the best goddam chai I've ever tasted and the closest taste to real Indian chai. Not full of lots of sugars but entirely natural. This was my go-to pregnancy drink with a tea bag and now It's replaced my morning coffee, absolutely love it!"